You know this band.
They were a late eighties phenomenon. A breath of fresh air. Strangely trashy, but likable. The sort of band that becomes famous on image, stage behaviour and a couple of songs. Much more than a one-hit wonder - the sort of band that impresses upon people something new and exciting - but when the world moves on are still remembered - and definitely not forgotten. The sort of band that generates the sort of music that you can dig out of your old cassette collection, play in your car on the way to work - and actually enjoy it.
---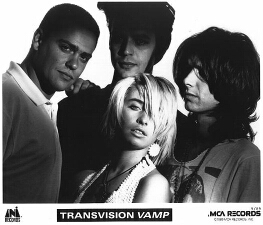 Despite almost universal critical hatred, Transvision Vamp briefly rose to the top of the U.K. charts in the late '80s, thanks largely to the media image of lead singer Wendy James, who fashioned herself as a sexually provocative, rebellious, fashion-conscious punk -- sort of a mixture of Madonna, Blondie's Deborah Harry, T. Rex, and the Clash. The musical backing by guitarist/songwriter Nick Christian Sayer, keyboardist Tex Axile, bassist Dave Parsons, and drummer Pol Burton tended to reflect the latter three bands as well. The singles "Tell That Girl to Shut Up" (originally by Holly and the Italians) and the Top Five "I Want Your Love" helped their debut album, Pop Art, reach the British Top Five, while the follow-up, Velveteen, hit the top, buoyed by the Top Three hit "Baby I Don't Care." The group's run halted when MCA initially refused to release Little Magnets Vs. the Bubble of Babble in the U.K.; it eventually appeared in 1991 to little attention.
---
I am not embarrased to say that I liked this band. I was an impressionable college kid at the time - and my flat-mates were all raving about them. Except - I'd like to think that whereas my flatmates raved on about the lead singer (admittedly a fanciable blonde called Wendy James) - I was taken by the freshness and audacity of the music and the stage performances. Looking back now - Wendy James was one of the early icons of "girl-power" at a time when musically the late-eighties were quite depressing.
I am pleased to say that I have blown the dust off my "Now That's What I Call Music 1989" double-CD and will be recording it onto a TDK 90-minute cassette. I will then use a bic biro to pull out some of the brown magnetic tape from the cassette - give it a bit if scrunching in my hand and then wind it back up again before I toss it into my car. This will give the music an authentic "retro" feel when I next drive round the North Circular. And I will really enjoy Transvision Vamp!
In fact - now go see the video and hear the music! Go to the "audio/video" section and download the MPEG file labelled: "North Circular to IKEA".